Cordless top-down/bottom-up blinds are our speciality!
Our most popular blind layout can be lowered from the top of the window and raised from the bottom using moveable rails. This combines easy and safe cordless operation of the blind with optimal control over light and privacy.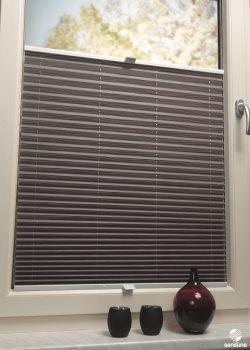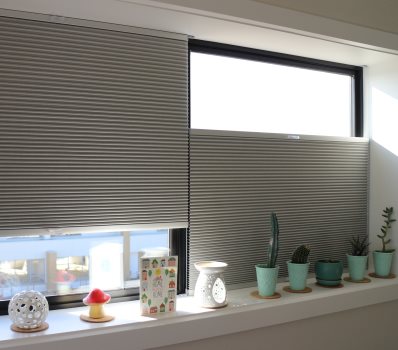 Perfect for tilt & turn windows
The popularity of energy efficient windows, such as double or triple glazed uPVC windows, is rapidly growing as Australians embrace the benefits of well-insulated homes. Many of our blinds can be installed directly to the glazing bead or frame sash of such windows. This is especially useful for tilt & turn windows and tilt & slide doors. The blind moves with the window or door and does not interfere with its operation.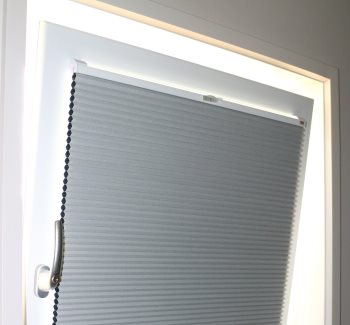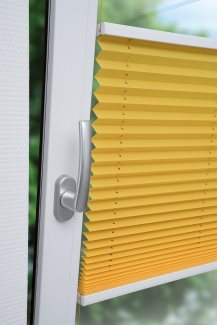 100% German-made quality
Our blinds are manufactured exclusively in Germany, by the blind market leader Sensuna. High-tech cellular structures and protective coatings on the fabrics, together with specialised sturdy and light-weight Decomatic aluminium rails, ensure your blinds are of premium quality and ideally suited to harsh Australian conditions.

Cordless vs. cord-operated blinds
We offer both cordless and cord-operated blinds. It is our priority to help you select blinds that are best suited to your windows and lifestyle.
Cordless blinds are especially safe and convenient to operate, but as the blind depends on friction to be held up, there are size limitations to these types (usually up to 1.2 or 1.5 metres wide). Cord-operated blinds are free hanging and can be made in much larger sizes (usually up to 2.2 metres wide). Many of the features that are particularly sought after in cordless blinds are also possible with cord-operated blinds: for example, the privacy offered by top-down/bottom-up operation, and lateral bracing to keep the blinds from swaying (see next section).
For further blind specifications, click here.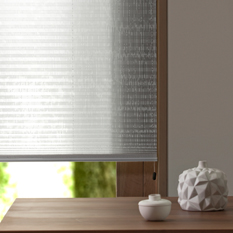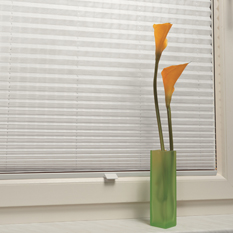 Lateral bracing keeps your blinds from swaying
All our cordless blinds, and some free-hanging cord-operated blinds (as an optional feature), are laterally braced. This means there are tensioned cords running along the left and right edges of the blind (secured at the base of the blind), which guide the blind rails up and down. This method of bracing is essential for blinds that are mounted directly to openable windows such as tilt & turn windows, as the blind then follows the movement of the window. Lateral bracing is also particularly useful for blinds fitted in other locations where air movement may normally cause a blind rail to sway around. Enjoy a light breeze from an open window without the nuisance of a wildly swaying blind.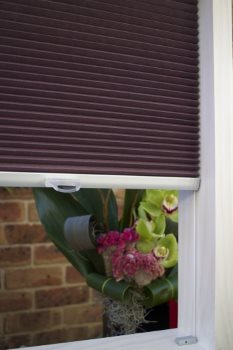 Water and stain-repellent
Many of our fabrics are suitable for wet rooms such as laundries, bathrooms and kitchens. They are woven from special water resistant fibres that remain stable even when wet, and are fast-drying. With an appropriate amount of ventilation, they are unlikely to be affected by mildew or mould. In our fabric selector you can filter fabrics by their suitability to moist environments.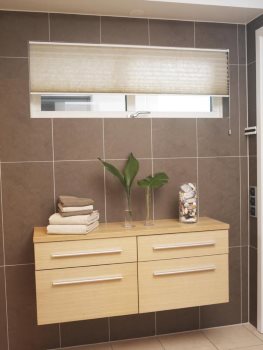 Fabric lamination
Many of our fabrics have a reflective coat or lamination on the reverse side. By reflecting light, this enhances the blind's heat protection capabilities. White laminations can reflect up to 86% of light while also darkening the room. Even translucent fabrics can have high reflection values when they are laminated with a pearl coat. Read more about glare and heat protection here.